Braden's Promise You Are My Sunshine
$30.00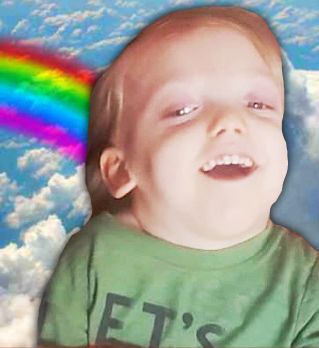 Meet Braden. He was miraculously born on December 27th, 2016 to loving parents that were advised to abort him. Doctors told his parents that if they decided to have this baby that it would be nothing but a vegetable with no personality. It's evident by looking at this picture that he was not a vegetable but rather a garden abundantly filled with all the fruits of the Holy Spirit that the bible teaches us to be in Galatians: love, joy, peace, patience, kindness, goodness, faithfulness, gentleness and self-control.
Braden's mark on history began the day his dad stood up to the doctors by saying "I don't know about you but I believe in God and we will be leaving it in His hands" and declared they would not be aborting their child. 
This day was covered by a half rainbow which let Braden's parents know that everything was going to be okay.
Braden was born with 2 rare medical conditions; Joubert Syndrome and an Occipital Encephalocele. It was predicted by doctors that he would not live at birth; but should he live he would have such devastating brain abnormalities that he would be in a vegetative state and have no personality. He spent the rest of his life defying the odds, overcoming countless milestones (by way of "inchstones" as we called them), proving doctors wrong, and showing the world that God is still in the miracle working business.
Braden lived his life to the fullest by making people smile. He loved riding merry-go rounds, swinging, going for walks to the park, eating ice-cream, sitting on his Gramsey's lap and having books read to him. He also loved to be sang to but without fail would burst into tears at the "Happy Birthday" song, every single time!
His infectious smile and sunshine personality touched the lives of more people in 3 years than most people with 80 years under their belt ever think about.
In February of 2020, Braden caught the common tummy bug. His parents took him to the ER where he was discharged with a diagnosis of fussy baby.
36 hours later, Braden went unresponsive and had to have CPR. He was life-flighted to Tulsa where he would only live 16 more hours. 
That quick, we lost our sunshine.
Braden lived a little over 3 years. We questioned God, why only 3 years? God revealed that 3 is a very important and symbolic number. God often used the number 3 to display wholeness, completeness, and perfection.
To name just a few ways the number 3 is used in the bible:
-The word three in Hebrew means harmony, new life, and completeness
-3 times is the ultimate emphasis in the bible (Holy, Holy, Holy God Almighty)
-The Trinity: Father, Son, and Holy Spirit
-The Magi present to Baby Jesus three gifts: gold, frankincense, and myrrh. 
-Jesus conquered death when he arose on the third day. 
-Jesus' ministry lasted on earth for 3 years, and so did Braden's.
Remember how Braden's journey began with a half rainbow? Braden's final day here on earth was covered by the second half of Braden's rainbow. When we see a rainbow we are to remember that God promised the earth will never be flooded again (Genesis 9:14-17).
God showed us that this miracle baby fulfilled his purpose here on earth and it was time for him to be complete in the loving arms of Jesus, somewhere over the rainbow.
With that, we are standing on God's promises with "Braden's Promise".
We are sharing Braden's story because we truly believe that he lived a divine life solely on Christ's behalf and to show that God still makes miracles happen to this day. Braden's testimony will not die and fade into the darkness but will shine on and pass on hope for years and years to come.